Vitamin B5 + Bifida Toner 120ml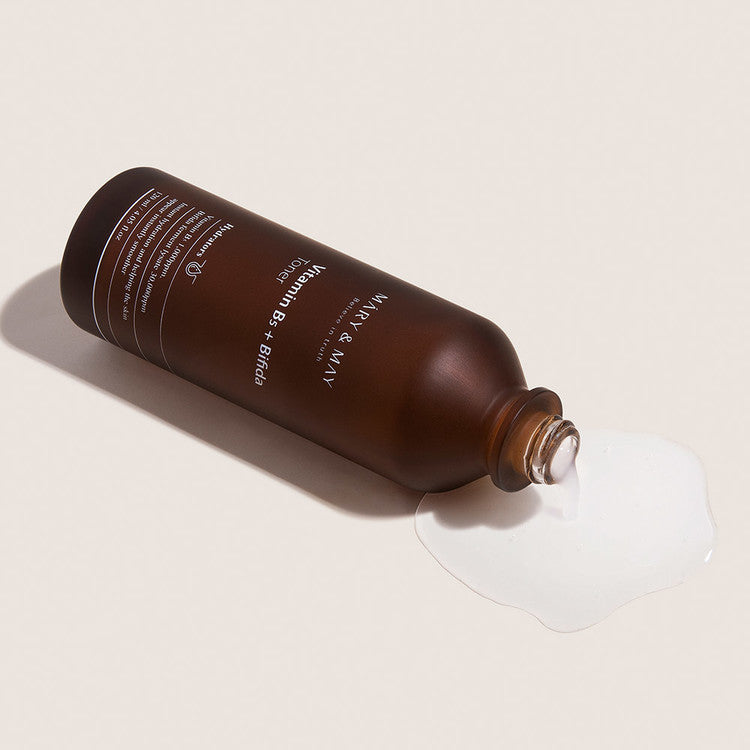 Vitamin B5 + Bifida Toner 120ml
Mary&May Vitamin B5 + Bifida Toner, 30,000ppm Bifida fermentation with 1,000ppm Vitamin B5 to soothe sensitive skin and deep moisturization 
4.05 fl oz.

1. A toner packed with vitamin B5 and bifida ferment lysate to deeply hydrate the skin while strengthening skin barrier, revealing a vibrant and radiant complexion.

2. Bifida ferment lysate replenishes nourishment for healthy glowy skin, strengthens the barrier to help skin regeneration and soften dead skin cells for a smooth complexion.

3. Rich in effective humectant vitamin B5 to moisturize and calm the skin.

4. Fast-absorbing texture that leaves the skin feeling refreshed and moisturized.

5. Formulated only with EWG green grade ingredients.
Water, Glycerin, Butylene Glycol, Bifida Ferment Lysate(30,000ppm), Niacinamide, Panthenol(1,000ppm), Glycereth-26, Dipropylene Glycol, Cetearyl Olivate, Sorbitan Olivate, Hydroxyacetophenone, Polyglyceryl-10 Laurate, Polyglyceryl-4 Laurate, Betaine, Caprylyl/Capryl Glucoside, 1,2-Hexanediol, Adenosine, Caprylyl Glycol, Disodium EDTA, Xanthan Gum, Fragrance, Sodium Hyaluronate
The natural power of skin found by adding Bifida vitamins
Bifida Fermented Lysate 30,000ppm
Bifida lysate, whose main components are vitamins A, B, and C, is obtained by dissolving the fermented product of Bifidobacteira. It not only provide rich nutrition, but also provide skin stability and skin regeneration, which can be used with vitamin B5 to prevent skin damage and create a glossy, clear skin tone synergy effect.
Vitamin B5 1,000ppm
Vtaimin B5 has excellent moisturizing effects as it was used as burn treatment at the time of discovery, and it has excellent moisturizing and soothing effects.
Daily skin care without irritation
We use only safe and essential ingredients.
✓ Clean Beauty
✓ No animal ingredients
✓ Cruelty free
✓ No harmful ingredients
✓ Skin hypoallergenic test completed
Best toner i have ever used!
New for me
I've been using the Mary & May serums and love their products and values. I appreciate the fact that they are earth-friendly, animal-friendly, and definitely skin-friendly. I decided to order their toner as well, and it is very soothing and moisturizing to my oily skin. Will definitely keep in my routine.
Good
Good product wanna repurchase more
ok
less stars because it's kinda hard to use and doesn't spread as well as i would like for a toner
Very good
Nice product and great price when promotion. Will repurchase when it's on sale again