Blackberry Complex Cream Essence 140ml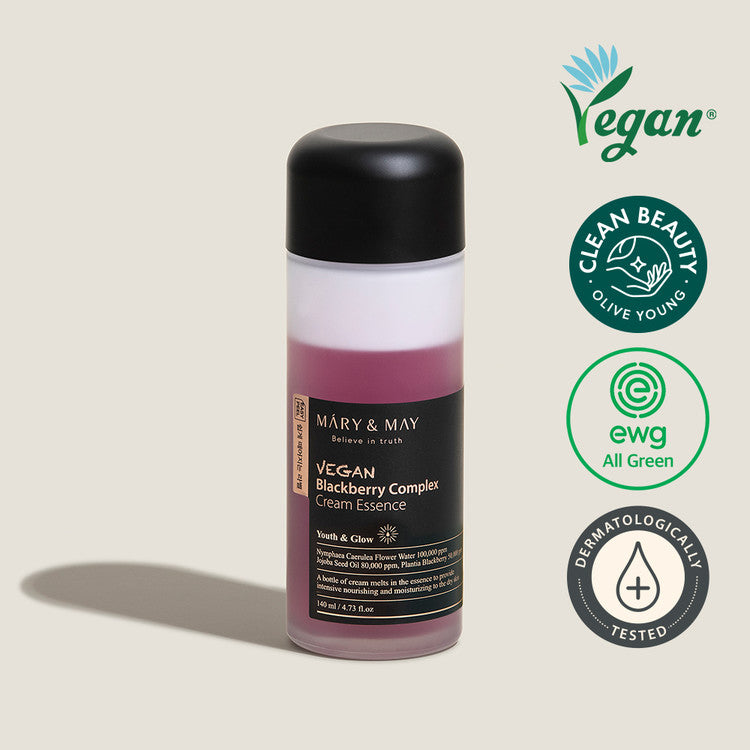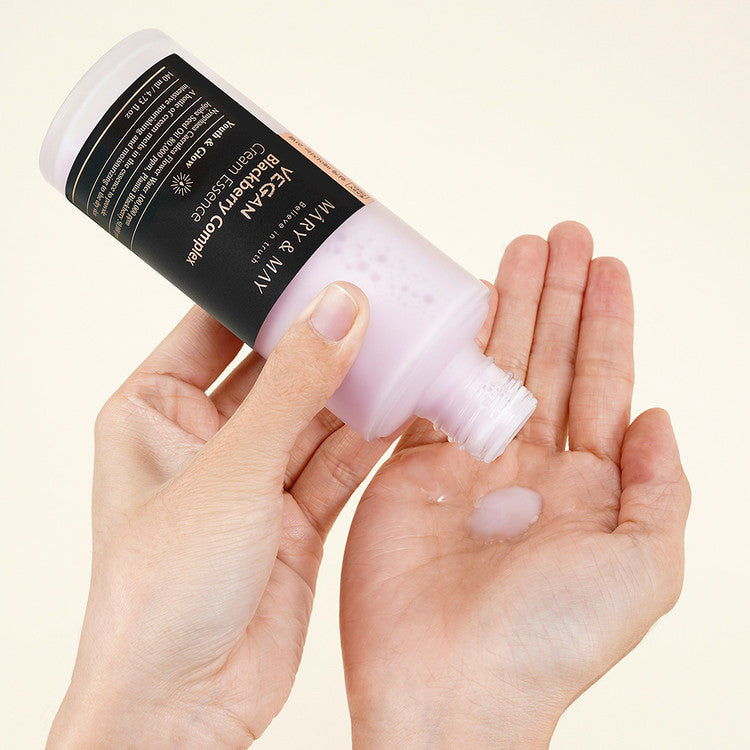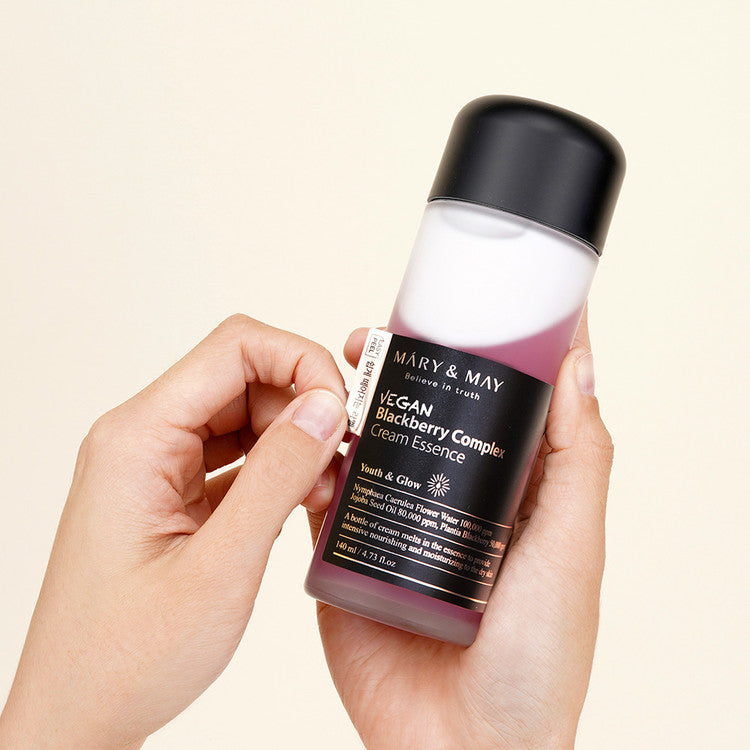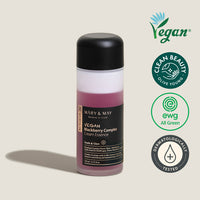 Blackberry Complex Cream Essence 140ml
Nutritious cream in a refreshing form of essence! A bottle of cream melts in the essence to provide intensive nourishing and moisturizing to the dry skin.
4.73 fl.oz.
1. Shake the contents to mix the cream layer and the essence layer before use.
2. Take an appropriate amount on the palm of your hand and let it absorb.
1. A refreshing essence formulation that absorbs quickly and non-greasy.
2. When the two solutions are lightly shaken, Mary&May's special formulation technology, Double Phase Emulsion, the high-viscosity cream dissolves in the moisturizing essence, stabilizing it, and the concentrated nutrition is absorbed freshly and quickly.
3. 50,000ppm Blackberry extract: Juicy blackberries are rich in anthocyanins. It prevents and improves aging caused by free radicals.
4. 100,000ppm Blue lotus water: The blue lotus is called the flower of life in ancient Egypt. Its excellent moisturizing and soothing effect makes the skin moist and elastic.
5. 80,000ppm Jojoba seed oil: Similar to human skin lipids, it does not clog pores and forms a skin moisturizing film. Strengthens the skin barrier.
Full of blackberry complex
Shake well!
The high nutritional moisture of cream with the refreshing feeling of essence!
Shake the moisture layer and cream layer lightly to balance the moisture and oil content lacking in the skin at the same time to achieve a healthy oil-water balance
Authentic ingredients, generous amount!
Blackberry complex delivers nourishing and soothing ingredients to the skin! Blackberry complex helps strenghten the rough skin barrier and provides non-tightening moisture to the skin.
50,000ppm Blackberry Extract - Skin damage improvement
100,000ppm Blue lotus water - Soothing & Moisturizing
80,000ppm Jojoba seed oil - Calms dead skin cells
Centella asiatica extract - Soothing & moisturizing
Ceramide NP - Barrier improvement
100% Vegan! Best for sensitive skin
We use only safe and essential ingredients. A fragrance-free, hypoallergenic essence mild even for sensitive skin
✓ Clean Beauty
✓ No animal ingredients
✓ Cruelty free
✓ No harmful ingredients
✓ Skin hypoallergenic test completed
Best ever!!
This essence is so softening and hydrating and feels wonderfully luxurious - it is my favorite!
Blackberry Complex Cream Essence 140ml
a creamy blackberry treat
i was attracted to this product because blackberries are my favorite berry and the name sounds so yummy haha.
i only use clean skincare so i love the ingredients as well, and there's no fragrance.
i use it as a toner, about five drops for my whole face and two for my neck.
i've been using this for a few days now and i love it so much! it makes my skin feel plump and hydrated, but not oily. like a mochi feeling 🍡 my skin is dry and sensitive, and i've not broken out at all ☺️ this has become a definite part in my skincare routine.
Blackberry Essence
I really like this essence and my skin does too. lol. It is very hydrating, between the size a dime-nickle is all you need for face and neck. It leaves my older skin looking plumper and dewy. I will definitely be ordering again. Thank You. Jean C.
Not good for Oily Skin
I absolutely LOVE the texture and the feel. It is perfect for hypersensitive skin. However, if you struggle with combo, oily, clogged pore skin— I cannot recommend this. It made my face much too oily and imbalanced. I have a skin analyzer and when using this I actually lost hydration and gained too much oil. Not "Balancing." There is also Açai in it, which can be highly comedogenic. Also, I would not apply moisturizer after this. Since it contains oils, putting on anything occlusive would potentially cause breakouts as well. This would work best for dry/dehydrated / sensitive types who are not prone to breakouts— or as a 2-in-1 essence/serum and moisturizer.