Hyaluronic Panthenol Hydra Mask (30ea)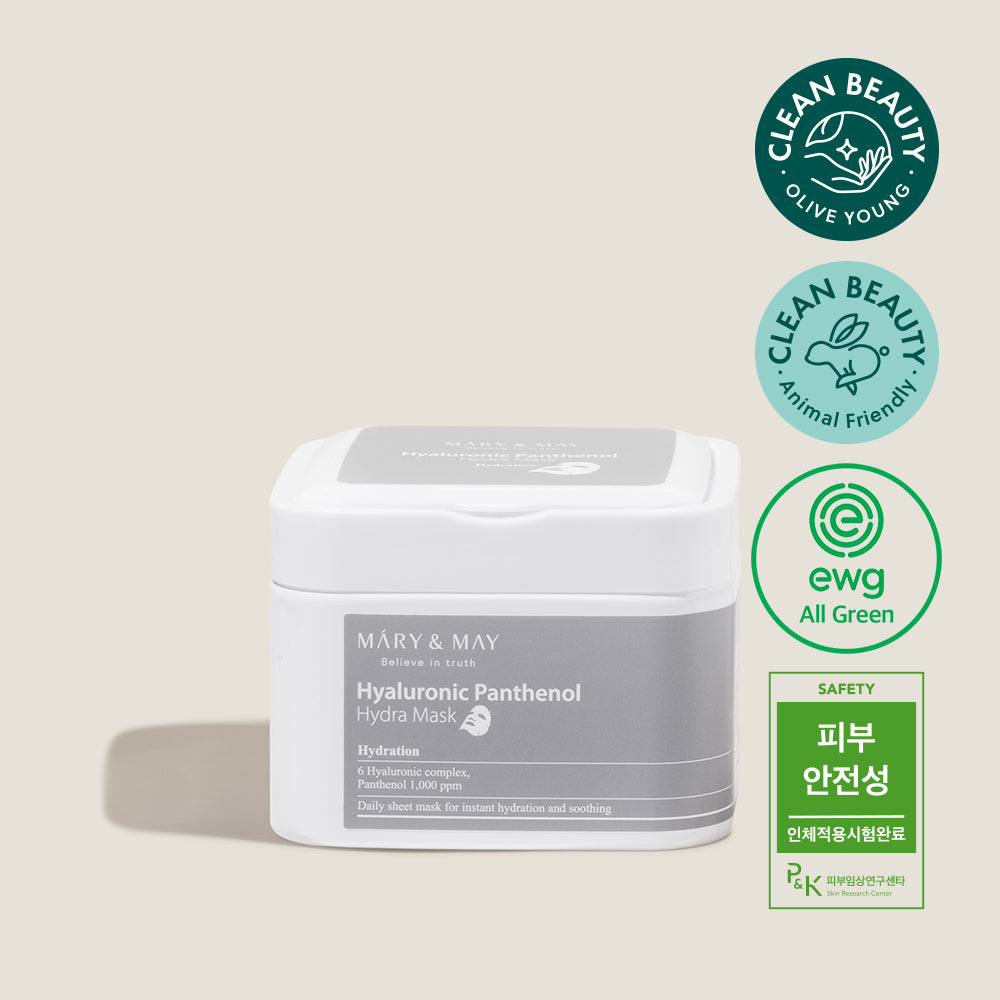 Hyaluronic Panthenol Hydra Mask (30ea)
Mary & May Hyaluronic Panthenol hydra mask, which intensively hydrates dry and rough skin to make skin smooth and clear.

30 sheets / 400ml
1. After cleansing, set the face with toner
2. Open the lid, open the protective cap, and take out one sheet with the mini tweezer.
3. After 10-15 minutes of letting the essence absorb into the skin, massage the remaining essence lightly to the whole face except around the eye are and lips.
1. All ingredients EWG green grade (excluding fragrance), Skin irritation test completed Hazardous ingredients 16FREE, against animal testing, Eco-friendly packaging printed with soybean oil ink.

2. 30 mask sheets in a large-capacity case, Easily pull out one sheet each day, making it convenient, reasonable, and protects the environment by reducing unnecessary waste.

3. Hyaluronic acid, an excellent moisture supply source that holds water 1000 times its body weight, effectively delivers moisture to the skin, helping to keep the skin soft and moist.

4. Panthenol is converted into VitaminB5 when absorbed by the skin,that are effective in moisture retention, moisturization, and skin calming, making dry and rough skin smooth.

5. It contains natural-derived allantoin, which helps heal skin wounds and protects sensitive skin.

6. The hypoallergenic, natural nude seal sheet closely adheres to the skin and delivers nutrients quickly, enabling easy daily care even for sensitive skin without irritation.
Water, Glycerin, Dipropylene Glycol, Hydroxyacetophenone, Polyglyceryl-10 Laurate, Hydroxyethyl Urea, Polyglyceryl-4 Laurate, Panthenol(1,000ppm), Arginine, Carbomer, Caprylyl/Capryl Glucoside, Fragrance, Allantoin, Butylene Glycol, 1,2-Hexanediol, Caprylyl Glycol, Disodium EDTA, Hydroxyethylcellulose, Sodium Hyaluronate(115ppm), Pentylene Glycol, Sodium hyaluronate Crosspolymer6.6ppm), Hydrolyzed Hyaluronic Acid(5.4ppm), Hyaluronic Acid(2.4ppm), Ethylhexylglycerin, Sodium Hyaluronate(0.9ppm), Hydrolyzed Sodium Hyaluronate(0.3ppm)
Intense moisturizing care
1 sheet per day
30 sheet masks in an easy-to use exclusive case. A convenient mask pack, pull one sheet at a time! Nutrient-rich essential ingredients are absorbed gently without leaving the skin sticky.
Intense moisturizing
Add panthenol to 6 types of hyaluronic acid. Hyaluronic acid and panthenol intensively supply moisture to dray and rough skin for smooth, clear, radiant skin.
✓ Hydration
✓ Makes your skin soft and smooth
✓ Stay hydrated
Hypoallergenic daily mask
With a double sealable protective cap, you can reopen/close it every day without worrying about drying out!
✓ Clean Beauty
✓ Eco-friendly
✓ Against animal testing
✓ No harmful ingredients
✓ Skin hypoallergenic test completed
Good
Like it so much! smell so good and soft
Hydrating mask
1st time trying. Like how it is extremely moist, relaxing & smells fresh. Put in fridge before use
Facemask
This is my third face mask packaging order from this brand in particular. And I love them all this one is amazing also. You will not regret trying it.
good product not regret purchasing at all. love it
The product is up to the brand name. no regret after purchasing.
Best
The best of the best! I really like it and will recommend to my friend __