CICA Soothing Sun Cream SPF50+ PA++++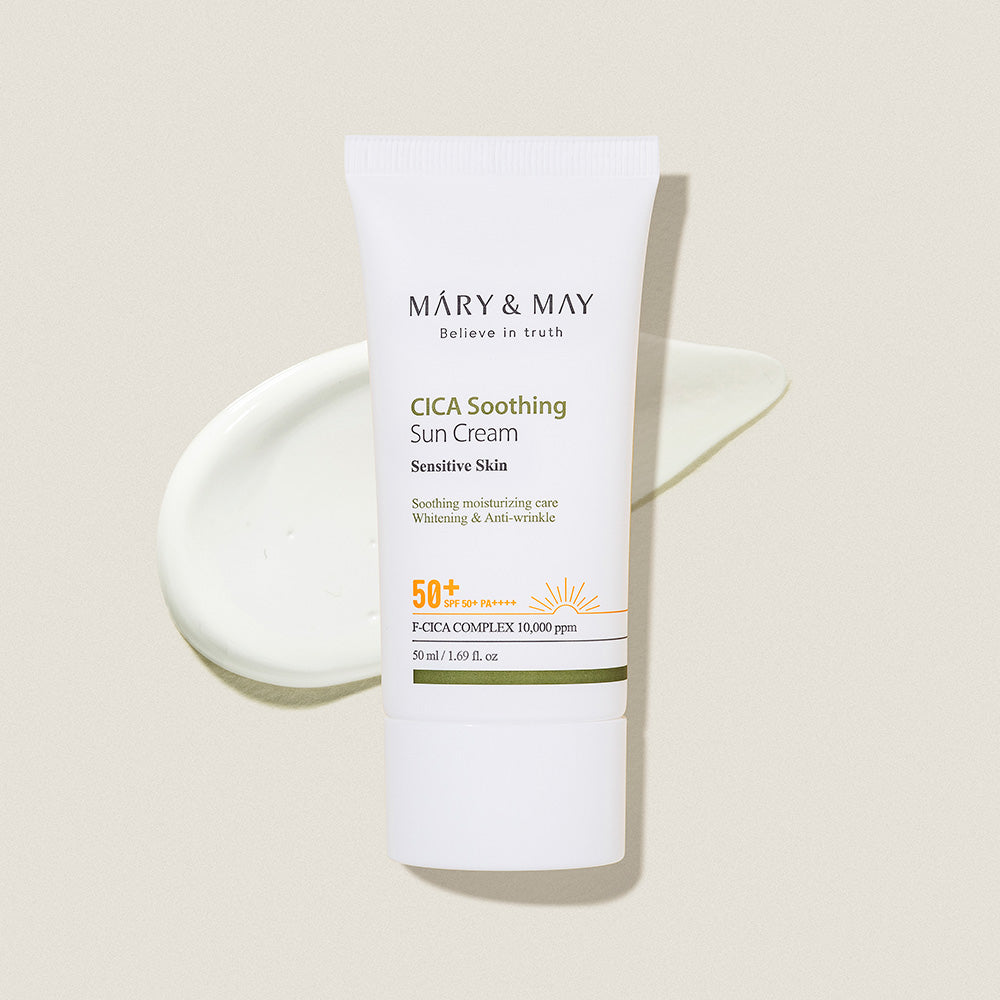 CICA Soothing Sun Cream SPF50+ PA++++
Triple functioning sun cream with UV protection, brightening and wrinkle management
Daily vegan moisturizing sunscreen with no white cast! Mary&May CICA Soothing Sun Cream so light as if you're applying a moisturizing cream.
1. In the last step of skin care, take an appropriate amount of this product and spread evenly on the skin.
2. It is recommended to apply thickly on areas highly exposed to UV rays.
1. It absorbs like a moisutrizer. The moment you apply it, the moisturizing particles explodes and absorbs quickly into the skin.

2. Using honest and true good ingredienits, abundant amount of effective ingredients. All ingerdients ALL EWG Green Grade.

3. Seven key ingredients of Centella asiatica fermented with yeast gently penetrate into the skin to block UV rays and soothe tired skin.

4. As light as feather, fresh and not sticky. Experience the amazing finish without burdening the makeup after applying sunscreen.

5. No animal ingreidents. Ree-safe. Cruelty-Free.

6. Complete skin hypoallergenic test for sensitive skin.
Start Vegan Cica Sun Care
Light Absorption
It absorbs like a moisturizer.
The moment you apply it, the moisturizing particles explodes and absorbs quickly into skin.
Vegan Skincare
✔️ No animal ingredients
✔️ Cruelty free
✔️ All ingredients EWG Green Grade
✔️ Reef Safe
Triple Functioning Skincare
Triple functioning sun cream with UV protection, brightening and wrinkle management.
the best sunscreen available there is in the skincare market
not sure if i reviewed this yet, but all i can say is the Mary & May Sunscreen has been the game changer for me. non irritating, soothing with cica, strong spf at 50 with PA ++++, plus all the skincare benefits of an excellent moisturizer that feels so light like a milk.
This is the best sunscreen I have used and excellent for mature skin
Will not disappoint. NO white cast. No stinging in the eyes. Looks fantastic under makeup.
Sunscreen
This sunscreen is moisturizing. It leaves somewhat of a glow. It leaves a little white cast on African American women. I do like it though. I also have a question. The bottle says "whitening," does the sunscreen make your complexion lighter or just helps with hyperpigmentation?
Great for oily brown skin
Love the sunscreen! I have very oily skin and it doesn't mattify the oil but also doesn't add on to the shine. It also doesn't leave a white cast. I sometimes skip moisturizer and use this directly in the summer.
Please try it!
Its probably one of the best sunscreens youll ever try. The feeling on the skin after applying is simply all you would expect from a perfectly balanced skincare product. It needs to be more viral!