Calendula Peptide Ageless Sleeping Mask 30g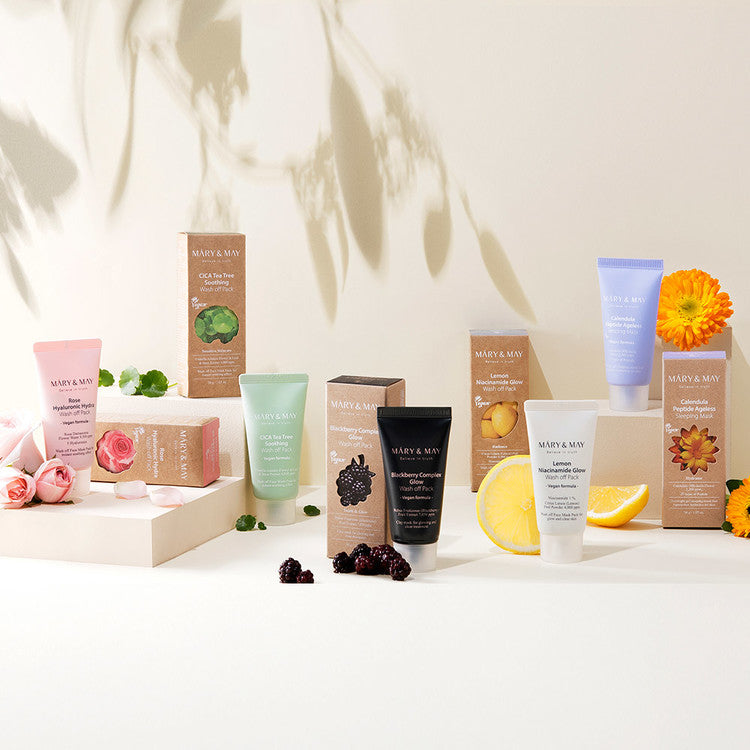 Calendula Peptide Ageless Sleeping Mask 30g
Calendula, also called marigold or pot marigold, contains a large amount of anti-inflammatory ingredients such as carotenoids, flavonoids, and lutein, which help soothe skin troubles such as itchiness and acne.
#Containing 2,200ppm Real Calendula Petals & 25 Peptides for Anti Aging #Clean beauty # 100% vegan #Anti-aging #Cruelty-Free
1. After washing your face, gently spread over entire dried face except around the eyes and mouth area.
2. Gently massage according to the condition of the skin. After 10-15 minutes, when the mask has dried up, gently wash it off with lukewarm water.
3. Take a sufficient amount and apply it thickly so that the moisture and active ingredients of the clay mask can be effectively absorbed.
1. Contains 2200ppm of calendula petals, which contain a large amount of anti-inflammatory ingredients such as carotenoids, flavonoids and lutein, to help soothe and heal damaged skin.

2. It contains 25 types of peptides that prevent aging, induces collagen synthesis, and delivers essential health ingredients to the dermis to exert anti-aging effects.

3. Containing guaiazulene from chamomile, it helps to soothe, moisturize, and relieve redness.

4. Contains centella asiatica extract, panthenol, and hyaluronic acid to provide sufficient moisture.

5. The gel texture full of moisture spreads smoothly on the skin and adheres to the skin while the active ingredients are quickly absorbed to deliver sufficient moisture.
Purified water, denatured alcohol, methylpropanediol, 1,2-hexanediol, betaine, dipropylene glycol, gardenia extract, burdock root extract, mud mushroom extract, centella asiatica extract, fig extract, kava cover leaf/root/ Stem extract, Matricaria extract, feverfew extract, hydrogenated lecithin, sodium hyaluronate, port marigold flower, panthenol, acrylate/C10-30 alkyl acrylate crosspolymer, glycerin, tromethamine, butylene glycol Lycol, polyglyceryl-10, laurate, dextrin, sodium phytate, ceramide NP, tocopherol, acetyl hexapeptide-8, acetyl octapeptide-3, acetyl tetrapeptide-2, oligopeptide-6, tripeptide-1, Copper Tripeptide-1, Hexapeptide-2, Dipeptide-2, Acetyl Tetrapeptide-3, Acetyl Tripeptide-1, Hexapeptide-9, Tripeptide-2, Nonapeptide-1, Pentapeptide-3, Tripeptide -3, Alanine/Histidine/Lysine Polypeptide Copper HCL, Dipeptide-4, Acetyl Tetrapeptide-5, Palmitoyl Dipeptide-7, Palmitoyl Hexapeptide-12, Palmitoyl Tripeptide-1, Palmitoyl Tripeptide -5, palmitoylpentapeptide-4, dipeptide diaminobutyroylbenzylamide diacetate, palmitoyltetrapeptide-7, guaiazulene, fragrance, ethylhexylglycerin
Natural Nourishing & Moisturizing Ingredients
Mary&May always uses high-quality raw materials and formulated without compromise to the highest compliance and safety standards.
Calendula flower - Skin soothing
25 types of peptide - Collagen production
Ceramide - Strenthen barrier
Chamomile extract - Soothing and moisturizing
Centella asiatica extract - Anti-inflammatory effect
Hyaluronic acid - Soothing& moisturizing
Benefit of Peptide & Guaiazulene
It contains 25 peptides for Anti Aging. It promotes collagen synthesis and delivers essential ingredients for skin health to the epidermis to achieve youthful skin.
The fresh green color is the natural color of guaiazulene, which penetrates into the skin to hydrate it and makes the skin elastic and lowers the skin's temperature from its soothing effect.
Highly Concentrated without harmful
We use only safe and clean raw materials.
✓ Clean Beauty
✓ No animal ingredients
✓ Cruelty free
✓ No harmful ingredients
✓ Skin hypoallergenic test completed