Calendula Peptide Ageless Sleeping Mask 110g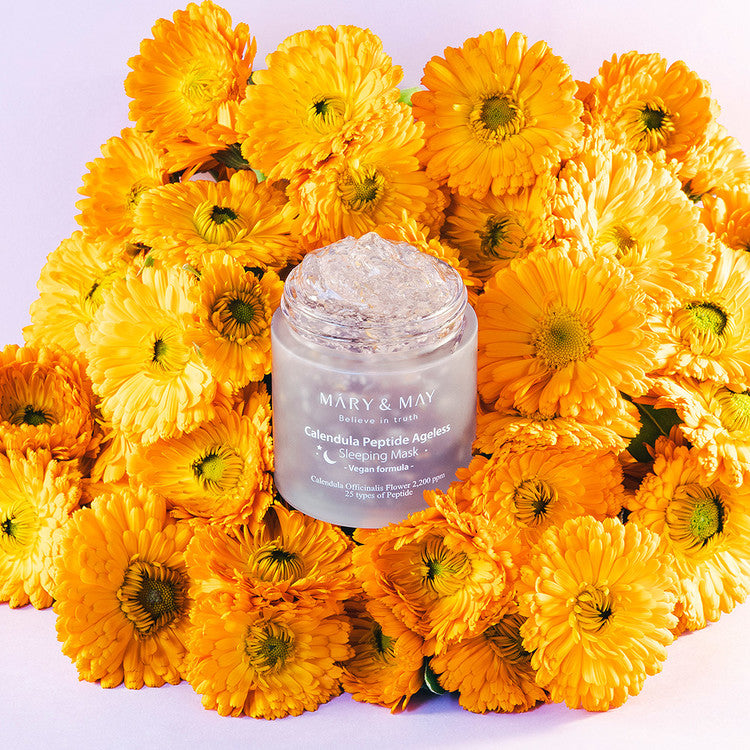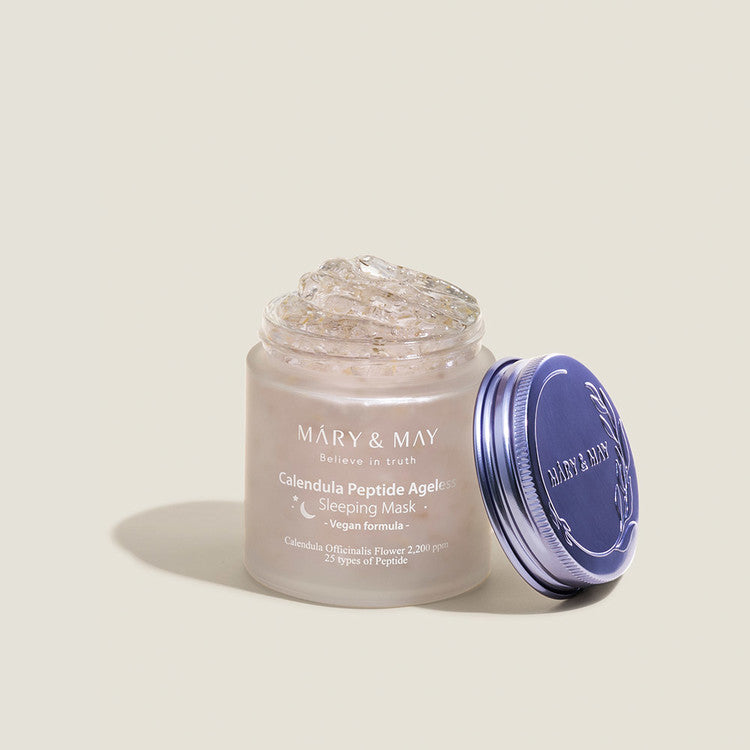 Calendula Peptide Ageless Sleeping Mask 110g
Calendula, also called marigold or pot marigold, contains a large amount of anti-inflammatory ingredients such as carotenoids, flavonoids, and lutein, which help soothe skin troubles such as itchiness and acne.
#Containing 2,200ppm Real Calendula Petals & 25 Peptides for Anti Aging #Clean beauty # 100% vegan #Anti-aging #Cruelty-Free
1. At the last step of skincare in the evening, take an appropriate amount and apply on the face generously.
2. Gently rinse your face the next morning with lukewarm water.

* The Calendula petals contained inside will gently melt and absorb into the skin once applied.

Undissolved calendula petals may remain, but be reassured in the morning and simply rinse gently with lukewarm water.
1. Only Safe Ingredients Included
Free of 18 harmful ingredients

2. Product Transparency
Mary&May selects worthwhile ingredients and includes plenty of them to ensure their effectiveness.

3. Nature Friendly
Mary&May completely avoids ingredients that harm the environment, and we don't test on animals.

4. Dermatologically Tested
Mary&May collects test data through 100% dermatologists test to ensure our products are safe.

5. Eco Friendly Packaging
Mary&May worked hard to develop our packaging with sustainability in mind.
Natural Nourishing & Moisturizing Ingredients
Mary&May always uses high-quality raw materials and formulated without compromise to the highest compliance and safety standards.
Calendula flower - Skin soothing
25 types of peptide - Collagen production
Ceramide - Strenthen barrier
Chamomile extract - Soothing and moisturizing
Centella asiatica extract - Anti-inflammatory effect
Hyaluronic acid - Soothing& moisturizing
Benefit of Peptide & Guaiazulene
It contains 25 peptides for Anti Aging. It promotes collagen synthesis and delivers essential ingredients for skin health to the epidermis to achieve youthful skin.
The fresh green color is the natural color of guaiazulene, which penetrates into the skin to hydrate it and makes the skin elastic and lowers the skin's temperature from its soothing effect.
Highly Concentrated without harmful
We use only safe and clean raw materials.
✓ Clean Beauty
✓ No animal ingredients
✓ Cruelty free
✓ No harmful ingredients
✓ Skin hypoallergenic test completed