White Collagen Cleansing Foam 150ml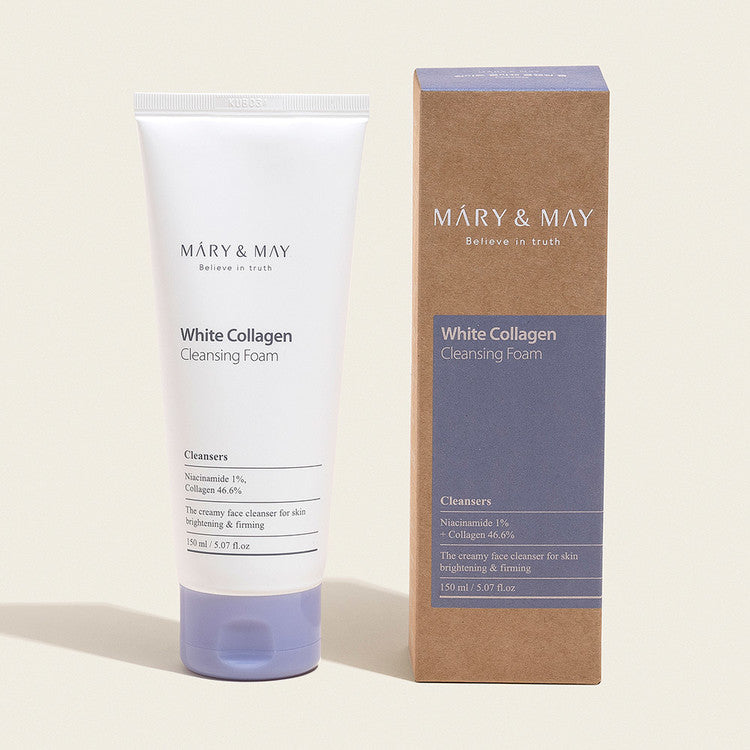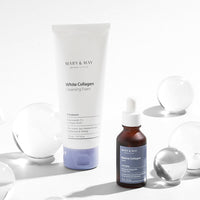 White Collagen Cleansing Foam 150ml
Mary&May White Collagen Cleansing Foam, 1% Niacinamide and 46.6% Collagen, Creamy face cleanser for brightening elasticity care
5.07 fl oz.
1. A sorbet-textured cleansing balm packed with vitamin C, B and E that gently melts away makeup, sebum and impurities without stripping the skin, revealing a bright and translucent complexion.

2. Vitamin E delivers an antioxidant effect that helps to prevent aging skin.

3. Formulated with EWG verified green grade ingredients.

4. Dermatologically tested.

5. A cruelty-free and eco-friendly product.
Hydrolyzed Collagen (46.6%), Myristic Acid, Palmitic Acid, Glycerin, Stearic Acid, Potassium Hydroxide, Lauric Acid, Water, Beeswax, Dipropylene Glycol, Lauryl Hydroxysultaine, Niacinamide (1%), Glyceryl Stearate SE, 1,2-Hexanediol, Hydroxyacetophenone, Butylene Glycol, Caprylyl Glycol, Disodium EDTA, Sodium Hyaluronate, Fragrance
Brightening elasticity care cleansing
Researcher's Note
Mary & May White Collagen Cleansing Foam contains low-molecular marine collagen and Niacinamide. It is a silky foam cleanser that helps skin elasticity and brightening while cleansing.
In addition it also has Hyaluronic acid that holds 1000 times its weight, filling the skin moist and elastic even after cleansing.
Deep cleansing with fresh cream foam
The dense and rich fresh cream foam gently cleanses dirt to making the skin look clear and vibrant!
Fresh cream foam cleanses the impurities hidden in the blind spots of pores without irritation.
Safe for sensitive skin
We use only safe and essential ingredients.
✓ Clean Beauty
✓ No animal ingredients
✓ Cruelty free
✓ No harmful ingredients
✓ Skin hypoallergenic test completed
Not suitable for sensitive skin
After first wash , observed small rashes all over. May not suitable for sensitive skin. This is my experience.
White Collagen Cleansing Foam 150ml
Best Facial Foam
It's really good and worth the price, my mum loves it so much!
Lol
I have nothing to say I just want the point
Niceee
This foam smell so good bruh no cap 100% I will buy again